This article is for people interested in learning to fly radio control IC (internal combustion) engine aeroplanes.
So you want to learn to fly radio control model aeroplanes?
1. The first thing is the right attitude.
Radio control aircraft are not toys. The fundamental difference is a toy cannot hurt you. The spinning propeller will cause serious damage to anything it hits. Once in the air the model can travel at considerable speed, the engine in particular,being metal, is potentially lethal on impact. A responsible attitude to the safe operation of model aircraft is not just desirable - it is a legal requirement.
There is the financial expense in buying a model and equipment for RC (radio control) model flying. However it will also take a lot of your time to learn - you wont learn in a day, or a week, or even a month. You you will need to be able to commit a lot of time on a regular basis to be down 'the patch'. If so, then possibly over a summer you will be flying solo. You have to be prepared for set backs and frustrations, and even more expense (the expense aspect never actually ends). So you will need to have the wallet & determination to persevere into what is a absorbing, fascinating and very diverse hobby.
2. Equipment Top of Page
It has never been cheaper or easier to get into model flying.
At time of writing (2010) model shops will do a 'startup' nitro trainer kit for under £300. The basics supplied are:
ARTF Trainer, glue for assembly, 2 Stroke Engine, Radio Control Set, Chicken stick/finger guard, fuel pump, glow fuel and a glow start. Useful to the novice would be a 2nd transmitter (compatible with the other one) and a buddy lead so once down 'the field' they are equipped for instruction. More about buddy leads later.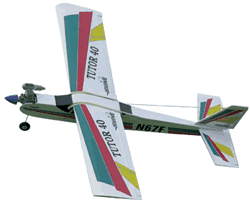 2a. An ARTF (almost ready to fly) Trainer type model aeroplane of the type on the left.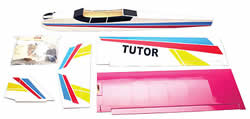 ARTF models have most of the building work already completed (see right) e.g. the wings are pre-built and covered, just require glueing together. Similarly with other parts such as the tail section gluing into fuselage. Usually the instructions are aimed at the 'first time builder' and a weekend is all that is required to complete the assembly, install the engine and radio control items and appropriate movement of control surfaces per the instructions..
Trainers are fun to fly and have forgiving flying characteristics so are ideal for for learning. You may like the idea of flying a 'warbird' like a Spitfire or Mustang but these are much less forgiving than trainers and will often have 'vices' to catch out the novice.
As you gain experience you may like to try your hand at building your own model. Kits are available (as shown below) which are essentially a box of wood and assorted parts with plans to build from. You can see some construction threads on the mmfc forum to get the idea. Later you may even go on to just buying a plan and building it.
However for those starting out, ARTF offers the simplest and cheapest introduction to model flying.
| | |
| --- | --- |
| Contents of a Kit to Build | A Typical Type of Construction |
2b.Radio control Top of Page
Transmitter (Tx) with a receiver (Rx), servos, flight battery, charger (for the Tx battery and flight battery) and xtal (crystals). One xtal for the Tx one for the Rx. The xtals will be 35mhz and have a number representing the channel they are on e.g. 80 (35.200). There will also be a switch harness (an on off switch that connects between the Rx & battery ). The switch lets you turn off the model when not flying to save the battery. With the advent of 2.4ghz sets crystals are not required as 2.4ghz receivers automatically 'lock on' to their 2.4ghz transmitter.
Servo (usually 4 per set)

Transmitter (Tx)

Receiver (Rx)

Flight Battery


Mounted in plane to power Rx
& servos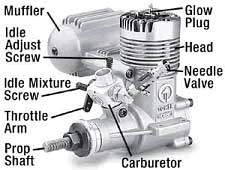 2c. Engine & Glow Start Top of Page
A 2 stroke 'glow' engine for model flying. Instead of a spark plug they have a glow plug in the cylinder head. Fuel is primarily methanol, with up to 25% oil for lubrication, and usually a smaller percentage typically 5-10% of nitromethane, a chemical additive which improves the combustion efficiency of the methanol.

The glow plug has a 'glowing' coil element. Once the engine is running the element is kept hot enough to keep igniting the fuel.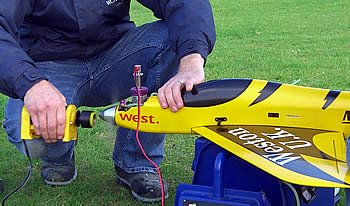 The initial starting of the engine is carried out using a glow start to make the glow plug element 'glow'. (as shown in the picture left) For starting the engine experienced pilots will 'hand start' engines by 'flicking' the propellor, to cause compression and ignition from the glow plug which is 'lit' by the glow start. Often a 'chicken' stick or finger guard can be used help protect fingers when hand starting.
At extra expense an electric starter (which keeps fingers away from propellors - See pic left) can be purchased for turning the propellor and requires a 12v battery for power. Once the engine is running satisfactorily the glow start is removed.

The club safety rules for starting etc will be explained by the instructor and are covered in FIELD RULES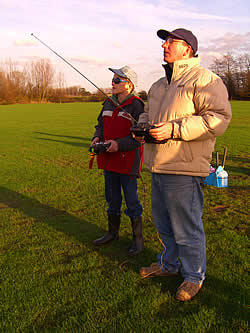 3. An instructor Top of Page
At MMFC novices are required to have a club instructor. Even if you had a private flying field trying to learn on your own would be time consuming, frustrating, expensive and potentially dangerous. Instruction by an experienced pilot is both the safest, cheapest and quickest way of learning as well as a source of knowledge on numerous aspects of model flying.
A point to note: in order to teach , the instructor sacrifices time when he could be flying his own models. A student who is enthusiastic, gets down the flying field at every opportunity and politely badgers for flights shows the instructor their time will not be wasted. If the novice appears not particularly bothered, then instructors are unlikely to put themselves out.
A major frustration for the novice is the difficulty in arranging dates/times for flying with the instructor(s).
People lead busy lives often the decision to 'go flying' is at very short notice and combined with the vagaries of weather make training appointments difficult. Realistically the novice will need to try and get down the field at every opportunity (when the weather is suitable for flying) and hope an instructor will be flying. Obviously this can be frustrating for the novice. .
The club requires 'buddy lead' learning where two transmitters are connected via a lead (buddy lead). The instructors Tx (master Tx) is the only one with xtal fitted and switched on with antenna extended. The students Tx (slave Tx) is not usually switched on as it draws power from the master Tx, should not have a xtall and need not have the antenna extended. Switching on the slave Tx can cause damage so care should be taken to follow manufacturers instructions.
The instructors master Tx will have a 'trainer switch'. When held down control is passed to the students slave Tx. However, as soon as the instructor releases the trainer switch control reverts back to his Tx . A major advantage of the buddy lead is the instructor decides when to take over , without the delay and potential disaster in trying to 'grab back' the Tx from the student.
Generally each training flight takes between 10-20 minutes (and will seem to last a lot longer - the intensity of concentration required when learning is immense)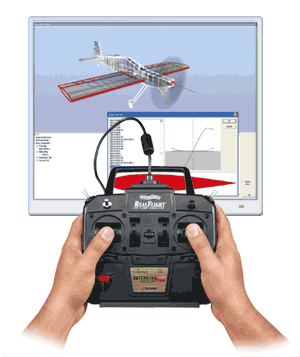 4. Simulators Top of Page
A computer simulator where you can plug in your Tx, (or where a mock Tx is supplied) and replicate the Tx controls, can greatly speed up the learning process. Practice on a simulator is just as relevant as down 'the field' for getting to the point where your thumbs move the Tx sticks automatically according to what you see and what you want the model to do. Usually the simulator will have a variety of models for you to experiment with. Simulators e.g. 'Reflex' and 'Real Flight' are expensive costing over £100 but they will help speed up learning. The major benefit is crashing on the simulator doesnt cost. You always have the option to sell the simulator on when you have finished with it.
The club requires a flying competence test be satisfactorily passed before new members may fly solo i.e. without an instructor and buddy lead. The test is carried out by 2 designated club members. The test is not particularly formal, the emphasis is that a person can fly and operate model aircraft - SAFELY.
5. Learning To Fly - How long does it take ? Top of Page
Well how longs a piece of string ?
Why are we here ?
Whats next weeks winning lottery number ?
One things for sure - The more often you go flying the quicker you learn and as mentioned a simulator that replicates the Tx controls can greatly speed up the process of making thumbs move sticks automatically. .

6. After You Have Passed Your Test. Top of Page
People only learn by experience and one of the aspects that keeps RC flying interesting is there is so much choice and diversity. You never stop learning or run out of new things to try. Wether your into aerobatic models, scale models, electric engine, glow engine, petrol, co2, diesel, gliders, free flight, helicopters etc. From building to designing model aircraft there is something for everyone.
Some things most of us have to learn the hard way. When you hit a tree, you learn to respect trees and understand about 'perspective'. Not sitting in your model it can be very difficult to judge where it is in relation to other objects e.g. trees.
When the engine stops (dead stick) and you try a tight turn that the model is not capable of (so drops out of the sky and crashes) you learn more about a models capabilites and stall point.
The list is endless and it's what makes model flying an achievement and so rewarding.
Keep Flying
Alistair Clinton