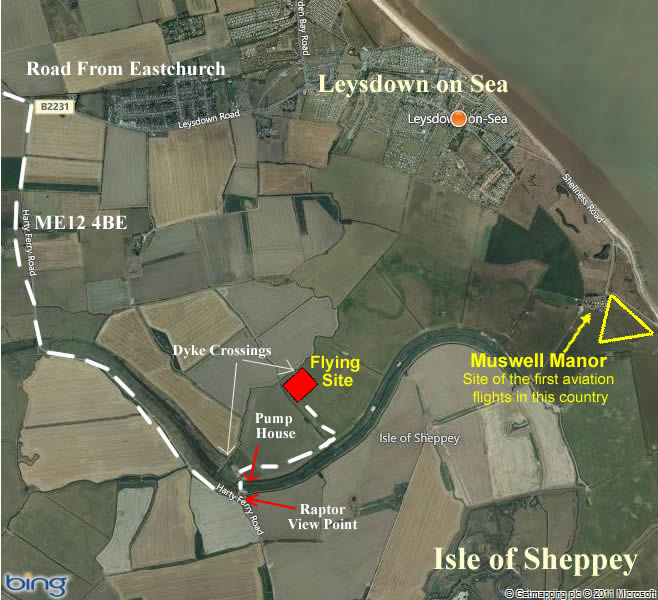 Our second site is now near Harty Ferry on Sheppey. You will need a key to the Harty site now . These are supplied on request (£10 refundable deposit ) as this site is used mainly for gliders , gliding competitions and Free flight events .
Nearest Sat Nav is ME12 4BE but continue along Harty Ferry Road for approx 1.5 miles
From M20 or M2 take the A249 north for Isle of Sheppey. Cross bridge and when on Sheppey turn right at the second roundabout onto the B2231 for Leysdown on Sea. Stay on B2231 for approx. 5 miles, past Eastchurch. Look for two dark green barns on the left, then a lay-by, then immediately turn right into Harty Ferry Road, (narrow and uneven) After approx. 2 miles, look for "Capel Fleet Raptor View Point" sign. Turn left then over bridge into field through locked gate. Club members will need a key for access. Turn right at pump house and follow the track to the site.
Use the track only as there is an exclusion of 15 metres from the dyke edge, known as the Capel Fleet, for the protection of the environment. When driving from the track to our f lyimg site please drive as close as possible to the cropped area and away from the ditch as this is also a conservation area.
The access road is usally servicable in good dry weather but be very careful if the fields are wet. You don't want to get bogged down in the middle of nowhere.
You are respectfully asked to avoid flying over or near the reeded area to the south side of the site beyond the dyke as this is a very sensitive conservation area for wild life.It is almost impossible and potentially dangerous to retrieve models from this area.
If your model lands outside the flying field you can still retrieve it but please respect the farmer's crops etc.
You will also note that there is a white building to the east of the flying field. This is Muswell Manor, the place where the first flights were made by the aviation pioneers in this country.
Drive in and through gate Locking it behind you .
Glider Field #2 E. 00.91269 deg N, 51.38184 deg .
Nearest public phone Corner of The Promenade and Leysdown Road, Leysdown. Opposite the Rose & Crown Pub
MEET AMBULANCE AT THE GATE / JUNCTION WITH LANE
Nearest Hospital with daytime Casualty dept is the new SHEPPEY GENERAL at BARTON HILL DRIVE. Proceed back towards the Kings Ferry Bridge /Sheppey Crossing . At traffic lightsat junction of Lower road and Barton Hill Drive turn RIGHT. Proceed to the top of the hill and turn Right at the roundabout .Hospital is straight ahead.
Please lock all gates at flying fields behind you When you enter and when you leave.